The Association of Göteborgs Remfabrik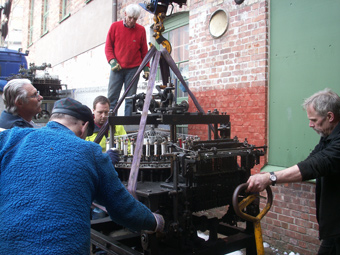 Föreningen Göteborgs Remfabrik was established in 1978 (shortly after the closure in 1977). The basis for its foundation was set by a handful of enthusiasts during the mill's last year of operation. Currently the society has around 200 members, of which about a dozen are actively engaged as volunteers.
The society succeeded initially in preventing the mill from being demolished, an ultimately, in 1984, getting a national conservation order placed on the building and its machinery.
Since then the main emphasis of the society's work has been on learning the working skills of the mill and demonstrating its machinery as well as carrying out routine maintenance.
In addition to this, the society has gradually acquired its own independent collection of working textile machines made redundant by other mills, thus creating a Textile Heritage Centre. These are also maintained and used to manufacture a range of products: tea-towels, webbing, bobbin-lace, narrow fabrics and braids of various kinds. All are for sale in the museum shop.
The association welcomes new members: no previous experience from textile production is needed.